Changing to a new office or even just altering your existing premises provides an easy opportunity for marketing your law firm.
Hopefully,  any changes will be due to your growing, successful business, but even if they're not, they can provide a great opportunity to promote your firm in your local media.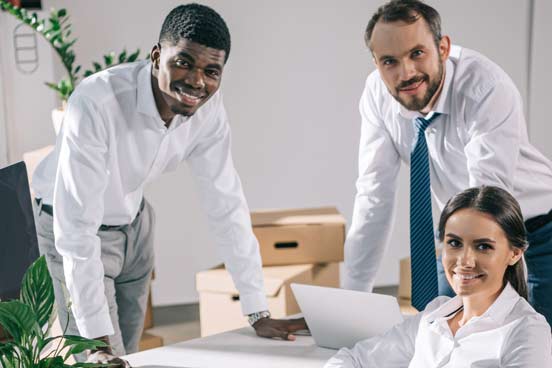 Here are a few examples from newspaper and business magazines across the country. We won't publish the articles in full for copyright reasons but click through and see the favourable publicity that firms can get…all completely free.
Manchester law firm is on the move
The legal experts have signed a 15-year lease with a break clause after 10 for 33,300 sq ft of office space. Manchester Evening News
You'll see that the firm is presented in a very positive way with its solicitors being described as "legal experts" right from the first sentence. In one sense that is stating the obvious because as solicitors, we would expect them to be legal experts, but the impression created by stating it is that the people at this firm are particularly skilful.
This theme continues with Managing Partner Roy Beckett being quoted on how the move "demonstrates our commitment to our people, our clients and the city" and on the firm being "recognised as the leading provider of both personal and business legal services within the region".
You many think that this story is not typical because if features a large firm like Irwin Mitchell, which will receive more favourable treatment from the media. This is not the case and there is no reason why smaller firms can't get similar publicity as long as they produce a good story and press release.
Here's a good example from the same paper, the Manchester Evening News.
Niche law firm launches Manchester office
A boutique law firm specialising in the FinTech sector has expanded into Manchester attracted by the city's strength in the technology scene. Manchester Evening News
The firm provides a good angle for the paper by talking about Manchester's growing tech industry and in the process manages to let everyone know its own special skills advising "digital start-up companies on a fast track to growth".
Here are some more examples from around the country.
Work underway on extension of solicitors' Nottingham office
Work has started on a major five-storey extension and refurbishment of Nelsons Solicitors' Nottingham office. The law firm has said it is investing heavily in its city centre premises.
In this example, the firm hasn't even changed offices; it is merely expanding its existing one. Nevertheless, the effect is the same. It gets a chance to promote itself with references to its "commitment to and investment in the city," its ability to "the best lawyers in the region" and how it provides "a full range of legal services for businesses and individuals".
Eric Robinson moves to new HQ at Botleigh Grange campus
After a period of rapid expansion, Eric Robinson Solicitors has announced its move to new headquarters at Vanbrugh House within the Botleigh Grange Office Campus in Southampton. The Business Magazine
This follows a similar pattern to the examples we've seen already. In between information about the move, the firm is able to slip in promotional phrases such as describing itself as "one of the south's leading independent law firms".
There is nothing to prevent any law firm from using news articles like this to promote their services and put their name in front of thousands of potential clients.
The Newport law firm that's moving in on Cardiff
Harding Evans has opened its first office in Cardiff to support its growth plans. Cardiff Evening Post
This firm provides extra interest by adding a line about taking on the big Cardiff firms. As with the other examples, it is give the opportunity to mention and promote its services.
Partner Wyn Williams said, through the new office, the firm aims to offer its whole spectrum of corporate and personal services which also includes family law, clinical negligence and wills and probate.
The firm goes a stage further by pointing out that it has a celebrity client in the Wales rugby player Sam Warburton, who provides a great testimonial: Mr Warburton said: "Harding Evans has always been as professional and innovative as the big city practices, so it is great to see them coming to Cardiff and being recognised as one of Wales' leading lawyers."
Not every practice will have such a high-profile client but if you do and they're prepared to recommend you, a move of office like this is a good time to do it if you want to make the most of every opportunity for marketing your law firm.
There is nothing unusual or special about these articles. They are typical of material being published every day in newspapers and magazines across the country.
All you need to do to get publicity like this is to write a press release and send it to your local media. There's every chance they will use it exactly as you wrote it, including sentences in which you outline your services, as long as you don't overdo it.
It won't work every time, of course, but if you're persistent you'll find that many of your releases are used. As an added bonus, you'll also start to develop a relationship with your local media outlets and they may turn to you for quotes on stories they generate themselves, giving you more opportunities to get your  name in front of potential clients without you even trying.
Marketing your law firm doesn't come any easier than that.