We can provide you with professionally designed newsletters to send out to your clients. We write all the articles and take care of all the production work – leaving you free to concentrate on your business.
The newsletters are designed using your logo and artwork. The headlines and panels will be in your firm's colours to emphasise your corporate brand. You will be able to list your services, contact details and include pictures of partners if you wish.
The end result is a newsletter which perfectly reflects your corporate brand, is professionally written and designed to the highest standards.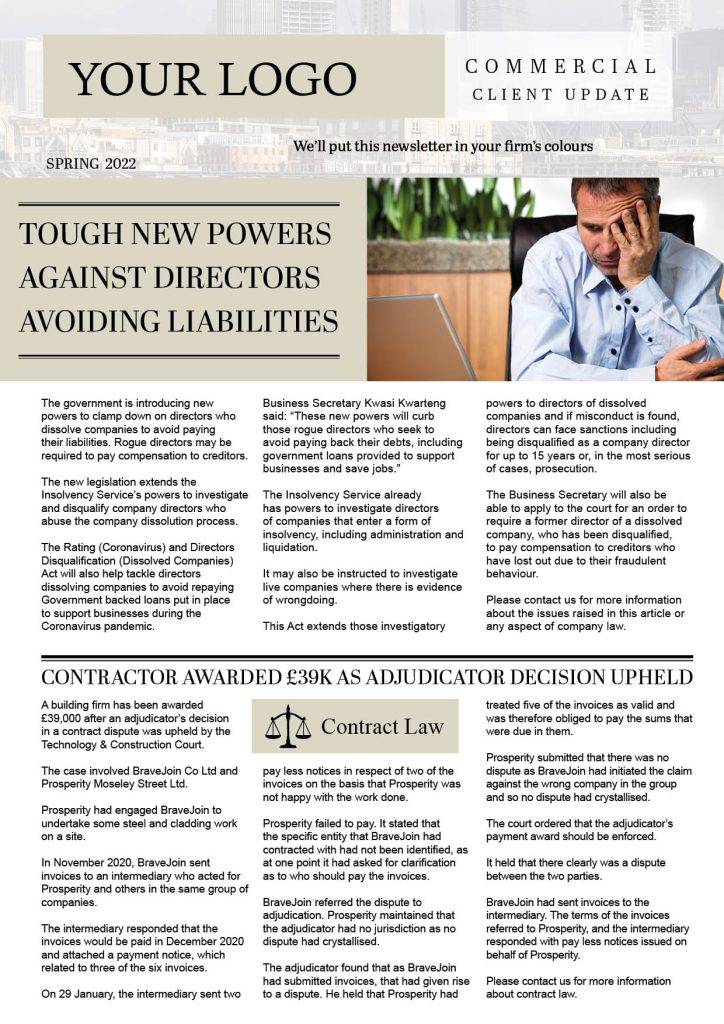 How many pages in your newsletter?
We produce 2-page, 4-page and 8-page newsletters. Which one would be best for you? Read more about how many pages you might want in your newsletter.
Choose your own articles – take total control
If you want a readymade hassle free newsletter, but want to be able to choose all the articles, this could be the newsletter for you. Find out more about our choose your own articles newsletter service.
Private Client Newsletters
Our readymade newsletters for you to send to your private clients contain articles relating to services such as wills and probate, trusts, matrimonial and cohabiting, family, buying and selling a home, personal injury, employment, inheritance, litigation, lasting power of attorney, professional negligence.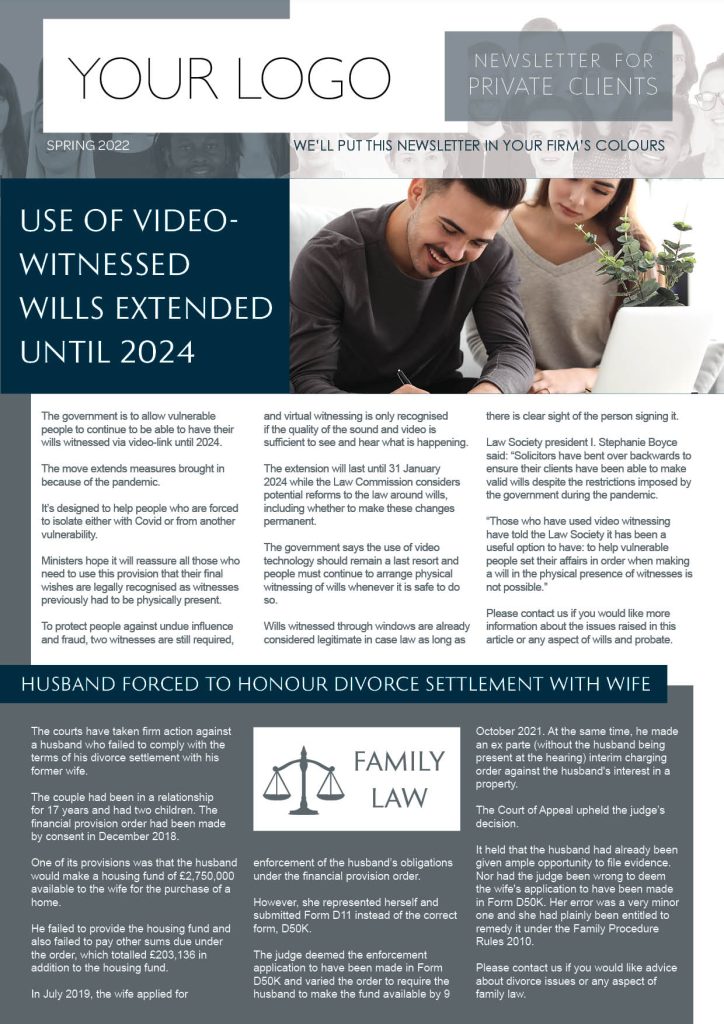 Business Client Newsletters
Our readymade newsletters for you to send to business clients contain articles relating to services such as commercial property, company law, contracts, commercial litigation, landlord and tenant, company law, employment, buying and selling a business, disputes, professional negligence, licensing, development.
Combined Newsletters
Combined Newsletters contain a mixture of both business and private client articles.
Add your own own articles and ads
You can include articles of your own if you wish so you can highlight developments within your firm or promote a particular service. There is no charge for including one of your own articles in the 4-page or 8-page newsletters.
There is a small extra charge for including further articles or photos, depending on the complexity of the extra design work required.
You can also include an ad for specific services, surgeries or forthcoming seminars at no extra cost
Print the newsletters or distribute by email
The newsletters are sent to you as ready to print high resolution pdfs with all the necessary crop marks and printer's instructions.
We also supply a pdf version which is suitable for posting on your website or sending out as an email attachment.
Your newsletter is exclusive to you in your area
We guarantee that when you subscribe to a Media Coverage newsletter, we will not supply the same newsletter containing the same material to any other firm in your area.
We would normally define your area by postcode (to be agreed).
Alterations and Amendments
Clients are always sent a draft of the newsletter before printing. In the unlikely event that any of the articles contain any factual errors then we will correct them immediately at no extra charge.
Subscription
There is no minimum subscription term. If you choose to subscribe for 12 months, ie four quarterly newsletters, there is no set up charge.
However, if you only want to take a one-off newsletter or subscribe for only a few editions then there will be a set-up fee of £95 to cover the cost of creating your newsletter template with your corporate branding.
Free articles for your website, blog or twitter feed
Remember, if you subscribe to any of our newsletters, we will also supply you with several free law news articles each month for your your website, blog and twitter feed.
Why not contact us to find out more!
Tel: 0115 981 3655