Quality content marketing can help give you a leading edge in the highly competitive market for Commerical Client services. Well written law news articles enable you to reach out to clients and potential clients every month, alerting them to developments that may affect their business and keeping your name fresh in their minds.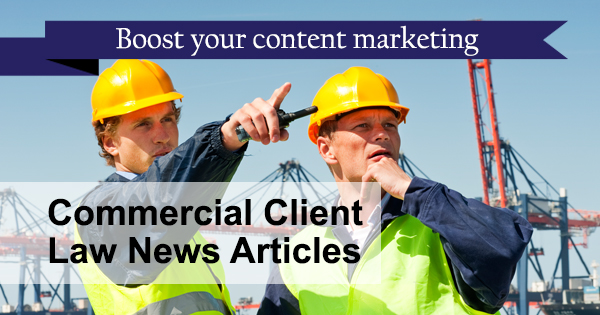 Our Commercial Client articles cover services such as company law, commercial property, contracts, litigation, landlord and tenant, employment, buying and selling a business, disputes, professional negligence, debt and insolvency, licensing, development, intellectual property, business succession and more. Please contact us if your subject is not on this list and we'll do our best to help. You can take the full cross section or select only certain areas such as employment, commercial property, …whichever areas you cover.
We ensure the content is always fresh
Content marketing is not just about choosing the right material. Clear, concise writing is crucial. Media Coverage specialises in providing law news articles that are targeted at clients rather than other solicitors. The stories are written in a quality newspaper/BBC style, which ensures they're easy for clients to read while remaining accurate and authoritative. We concentrate on the latest developments and court cases to ensure you are always up to date. Originality is vital. Remember, there's only so many times you can use the same stock article to urge clients to check their employment policies or commercial leases without becoming repetitive or sound like you're preaching.
Our approach, featuring the latest developments and cases such as landlord and tenant disputes, prefessional negligence, company law, employment tribunal awards etc mean these subjects are always fresh to the reader.
Choose how many articles to take
The articles are ready for you post on your website or use in your newsletters and social media feeds exactly as they are, but of course, you can also add your own comments if you wish to personalise them and establish yourself as an authority on the subject. In fact, we recommend that you do this because it helps to cement your name in the minds of your clients and potential clients.
We can supply you with several articles every month covering all the latest developments and court cases across most areas of law covered by High Street firms. You can take as few or as many as you like.
Law News Articles help you to attract clients to your website. The problem is that most lawyers are too busy with their caseload to produce the constant flow of articles needed.
We can help by providing you with professionally written articles at minimal cost.
How are our articles written?
All our articles start with key points and summaries from solicitors, barristers and subscription services such as Lawtel. They are then written up in BBC style English by our experienced journalists and copywriters. Our writers have worked for the BBC, ITN and quality national newspapers, together with several quality marketing agencies.
All articles are checked thoroughly before being sent to you, so you can be sure of their accuracy.
Prices
All Media Coverage services are competitively priced while retaining the highest standards.  We offer various packages but prefer to tailor our services to your firm's individual needs so you get the best possible value of money. Please contact us so we can discuss how we can best help you.
Alterations and Amendments
The articles are all sent to you as Microsoft Word documents. You can alter them as you wish to highlight a particular service within your firm or to include your particular view on a subject. However, most of our clients use them exactly as we send them.
Exclusivity of Material
When you subscribe to one of our Law News Article services, we won't supply the same material to any other firm in your area. We would normally define your area by postcode (to be agreed).
Why not contact us to find out more!
Tel: 0115 981 3655