Government proposes more workplace protection for employees
The government is considering new measures to prevent unscrupulous employers from intimidating staff who expose wrongdoing in the workplace.
It means it could become unlawful to withhold references for an employee who wishes to leave a company following a dispute.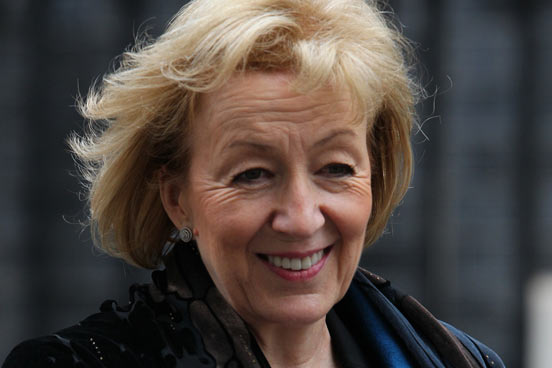 Business Secretary Andrea Leadsom, pictured above, said: "The overwhelming majority of businesses comply with the law, treating their employees with respect and fairness. But we cannot tolerate the small minority that use nasty tactics like non-disclosure agreements and withholding references to pressure employees into silence, often in cases of serious wrongdoing.
"These proposals ensure individuals are protected, striking a fair balance between the interests of employers and workers."
The measures form part of the government's response to an inquiry on non-disclosure agreements conducted by the Women and Equalities Select Committee (WESC).
Many of the recommendations made by the Committee were addressed in a raft of proposals announced in July to crack down on misuse of non-disclosure agreements, including legislation ensuring that confidentiality clauses cannot prevent individuals disclosing to the police, regulated health and care professionals or legal professionals.
Other recently proposed legislation includes:
ensuring employers make clear the limitations of a confidentiality clause, in plain English, within a settlement agreement and in a written statement for an employee, so individuals signing them fully understand what they are signing and their rights
extending current legislation so that individuals signing NDAs will get independent legal advice on the limitations of a confidentiality clause – including making clear that information can still be disclosed to police, regulated health and care professionals, or legal professionals regardless of an NDA
introducing new enforcement measures to deal with confidentiality clauses that do not comply with legal requirements – for example, an NDA in a settlement agreement that does not follow new legislative requirements will be legally void.
Employment Law News Articles for content marketing
This article is presented purely as an example of the kind of quality content we send to our law firm clients every month. We can provide you with articles covering most commercial, private and employment law services.
These are some of the employment law news articles we provided recently for our clients to use for their content marketing.
Straight, white employee wins racist and homophobic abuse claim
Equality watchdog 'calls time on cover-up confidentiality agreements'
Worker was discriminated against due to his 'perceived religion'
Manager unfairly dismissed despite giving herself unauthorised pay rise
Employers wrong to dismiss worker who could not take on a full-time role
You can use our articles exactly as we send them or alter them and add your own comments if you wish. We'll be happy to send you samples.
Discover more about our employment law news articles to help market your firm.
Or contact us for more details.