Free press coverage from identifying a Brexit trend
Law firms can get valuable publicity in the press and create original blog posts for social media by identifying trends in their specialist fields.
This is a good example from Simpson Millar. They highlighted a topical story relating to Brexit and were featured in the Manchester Evening News.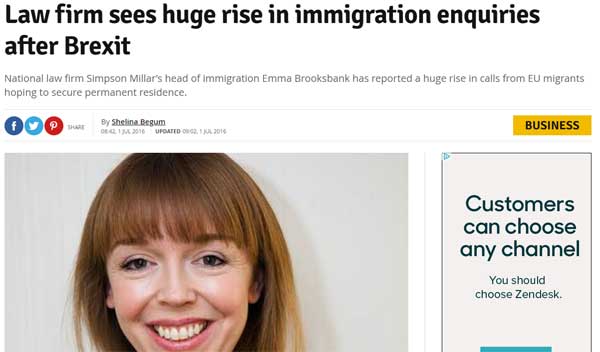 Read the full story in the Manchester Evening News
Read through it and then check our analysis of how the article was created and how it allowed the firm to get valuable publicity in a major newspaper as well as providing a good blog post for social media.
Free publicity from identifying a news trend
Brexit has obviously been the main news story of the last two years and Simpson Millar manage find a way into to it by identifying a trend in their specialist field.
In doing so, they become the source of an article in one of the UK's largest regional newspapers.
It's priceless publicity and yet it is so simple to do. All the firm has done is reacted to a fairly predictable increase in enquiries about immigration issues from both EU migrants and UK businesses who rely on foreign labour.
By highlighting this development, they're given a platform to promote their name and their service.
Potential clients who had never even heard of Simpson Millar now know about them and know that they run a specialist unit dealing with immigration issues.
There are a lot more positives. The fact that the firm is being used as the source of the story suggests that they must be an authoritative source on the issue.
The go to law firm for this subject
This impression is reinforced by the fact that there has been a surge in the number of people contacting them for advice. They come across as the firm to go to for this subject.
If you were a migrant looking for help, or a business worried employing migrants, there's a strong chance that you would approach Simpson Millar if you needed legal advice.
And thanks to the article, you would know that they hold weekly drop-in sessions in Manchester and Leeds.
They would also know the name of the firm's head of immigration services and even seen a picture of her looking professional and business like yet friendly and approachable.
The story originated with a simple press release
Any firm that specialises in immigration services is likely to have seen the same spike in inquiries and so could have got the same kind of publicity with an article of their own.
How did Simpson Millar do it? Simply writing a press release and sending it to the relevant media. Take a look and you'll see that it contains all the information used in the newspaper article.
The Manchester Evening News adapts the press release to provide a different angle but that won't worry Simpson Millar as they still get the desired publicity, and if you look closely at the published article, you'll see that it quotes verbatim several paragraphs from the press release.
Law firms can do this across a variety of subject and services from wills and probate, family, conveyancing to commercial services such as commercial property, debt and company law.
Click through for more ideas on promoting your law firm in your subject area.